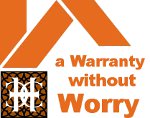 Calais Custom Homes is dedicated to your enjoying our Ultimate Ownership Experience! After a smooth transition into your new home, we stand by our commitments to the high quality standards set forth in our Worry Free Limited Warranty®. Specific details, coverages and homeowner instructions related to our warranty are included in your new Calais Homeowner Handbook, which is provided to you at the closing of your home. Several key elements of our warranty process include the following items:
An exhaustive 40 page Warranty Manual provided upon the completion and delivery of your new home.

A 1-year workmanship warranty.

A 2-year systems warranty.

A 10-year structural warranty.

A Homeowner walk-list created at the completion of your home.

A Homeowner walk-list created after approximately 60 days of occupancy.

A Homeowner walk-list created after approximately 1 year of occupancy.
All walk-lists are scheduled for completion soon after creation. Calais Custom Homes considers the completion of warrranty items a critical aspect of our business, as we primarily rely upon referrals by our satisfied homeowners to generate a majority of our future business! Our proven success as the builder of Dallas-Ft. Worth's premier custom homes is hinged upon this cornerstone of our company for over 30 years. It matters to us!
Live Calais Lifestyle. Your Ultimate Home Ownership Experience.